Ce n'est pas sans une certaine dose de fierté que le blogueur sentimental que je suis expérimente de temps à autre le bonheur de voir un groupe éclos en ses pages prendre son envol vers des cimes insoupçonnées.
Bombadil
était un groupe prometteur mais brouillon quand, en juin 2007, je chroniquais leur premier EP sur la pochette duquel une malheureuse chenille rampait. 2 ans plus tard, c'est un majestueux ballon tirant un mystérieux personnage à deux têtes et flottant haut dans le ciel qui orne la couverture de
Tarpits and Canyonlands
, le 2ème album d'un groupe en plein possession de ses moyens.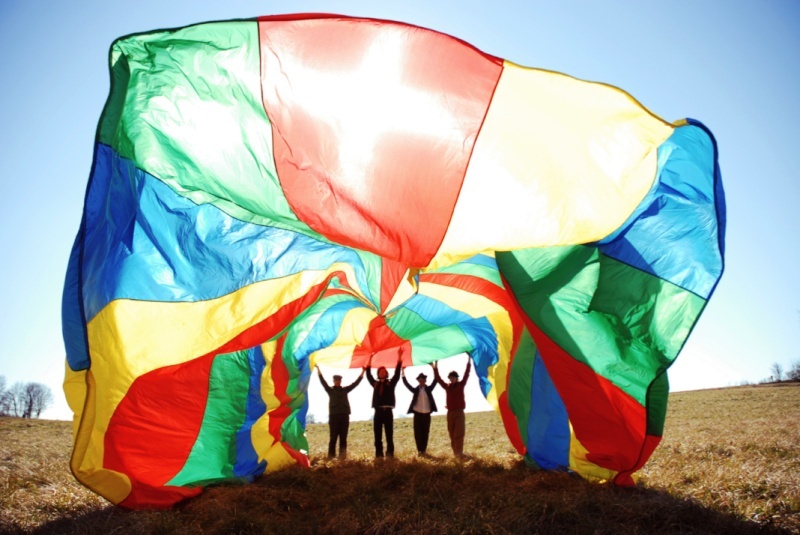 Attention,
Bombadil
n'a pas perdu la fantaisie qui a toujours fait son charme. Tout ici est aussi imprévisible qu'à l'accoutumée : toujours basées sur leur inoxydable piano et une rythmique implacable, ces chansons nous emmènent là où elles veulent. Les voix s'unissent en sing-alongs frénétiques, les instruments (flûte, guitares, saxo, violons etc) se superposent, les mélodies se fraient un chemin pour mieux nous perdre. Prenons donc si vous le voulez bien l'inaugural
I Am
comme une profession de foi : la phrase
"I am building you a pyramid"
qui tourne en boucle est à prendre comme l'aveu d'un groupe en constante (dé)construction. Des bâtisseurs de chansons épiques, douces et cruelles, voilà ce que sont les
Bombadil
!
La preuve sur un
Kuala Lumpur
qui déroute, impressionne, enchante sur un entrelacs de voix et de clappements de mains, un
Oto The Bear
qui plie sous le poids des instruments mais ne rompt pas, un
Honeymoon
en forme de crescendo incontrôlable.
Bombadil
-
Honeymoon (MP3)
Un splendide écran de fumée pour cacher à demi le fond d'un album résolument sombre. Ainsi sous ses dehors de comptine hystérique,
Sad Birthday
sent la déprime à tous les étages.
So Many Ways To Die
- là encore tout est dans le titre - traite du deuil avec plus de retenue mais les superbes parties vocales sont empreintes d'une douleur manifeste. Une trame au piano nous conduit sur les pas de
Matthew
dont on devine rapidement le destin funeste.
Bombadil
-
So Many Ways To Die (MP3)
Etonnante également, de la part de 4 jeunes célibataires, cette réflexion sur le mariage qui court sur tout le disque, de la mise en garde sur
Honeymoon
(
"what lies behind that honeymoon"
) à l'échec sur
Marriage
(
"I thought you knew/this was marriage"
) en passant par l'espoir sur
Kate and Kelsey
(
"kate and kelsey/we will marry you"
).
Autrement dit,
Bombadil
gagne en profondeur sans perdre en efficacité : ce n'est pas la moindre des réussites de ce magnifique
Tarpits and Canyonlands
.
[
Site
]
[
MySpace
]
Acheter
Tarpits and Canyonlands
(2009,
Ramseur Records
)