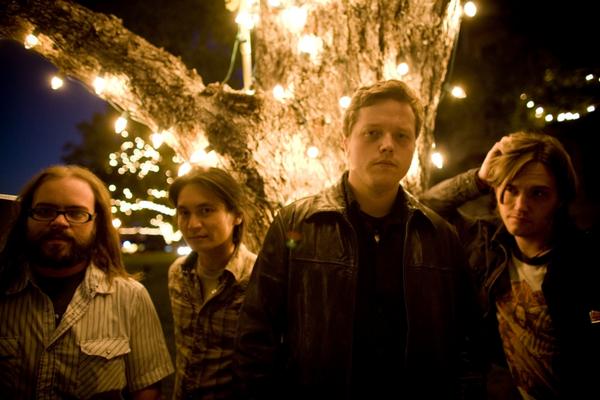 Ce qui est bien avec le départ de
Jason Isbell
des Drive-By Truckers, c'est qu'on y a gagné au change. On n'a plus juste un seul excellent groupe mais désormais 2 remarquables formations oeuvrant pour le salut du rock du sud et bien au-delà.
Le 2ème album de
Jason Isbe
l
l
- cette fois-ci avec le
400 Unit
crédité au générique - n'atteint peut-être pas les sommets de
Brighter Than Creation's Dark
ni même la qualité des opus auxquels il participa avec DBT, néanmoins c'est une réussite de plus à mettre à son crédit.
Enregistré au fameux studio FAME de Muscle Shoals,
Jason Isbell and the 400 Unit
confirme tous les talents d'écriture du bonhomme et en révèle même quelques faces cachées.
Les tonitruants
Good
,
However Long
et
Soldiers Get Strange
offrent du pur rock à la sauce sudiste - c'est le moins qu'on pouvait attendre de la part d'
Isbell
.
Soldiers Get Strange
touche particulièrement en évoquant le sentiment d'exclusion et de décalage d'un soldat tentant de revenir à la vie civile - à mettre en écho avec
Dress Blue
, sur son premier album, déjà incroyablement poignant sur un sujet proche.
Moins prévisibles peut-être,
Seven-Mile Island
,
Sunstroke
et
Streetlights
sont des mid-tempos méditatifs qui bénéficient de superbes arrangements.
Jason Isbell and the 400 Unit
-
Streetlights
(MP3)
Mais ce qu'on retiendra en premier de l'album, ce sont les vibrations country-soul qui en émane. Probablement inspiré par les lieux de l'enregistrement,
Isbell
donne son meilleur vocalement et son groupe se transcende sur les excellents
Cigarettes and Wine
,
The Blue
et le jouissivement soul
No Choice in the Matter
.
Jason Isbell and the 400 Unit
-
The Blue
(MP3)
J'ai changé d'avis, pour mieux apprécier l'aspect soul de l'album, écoutez plutôt ça :
Jason Isbell and the 400 Unit
-
No Choice in the Matter
(MP3)
L'album se referme le crépusculaire
The Last Song I Will Write
. Sa dernière chanson? C'est bien la seule fois qu'on ne prendra pas
Isbell
au sérieux.
[
MySpace
]
[
Site
]
Acheter
Jason Isbell and the 400 Unit
(2009,
Lightning Rod Records
)