Lorsque Jody de When You Awake m'a demandé de lui faire une
compilation
de ce que je considérais comme être le meilleur du country-folk en France, j'ai d'abord été enthousiasmé. Puis j'ai paniqué. Car si on y réfléchit bien il y a, en nos contrées, peu d'artisans du genre à s'être affranchi des clichés et qu'on n'aurait pas honte de présenter à nos cousins américains qui en la matière n'ont de leçon à recevoir de personne. Donc en dénicher 10 dignes d'intérêt ne fut finalement pas si facile. Mais s'il y en a un - parmi 2 ou 3 autres - à qui j'ai pensé immédiatement c'est bien
David Fakenahm
.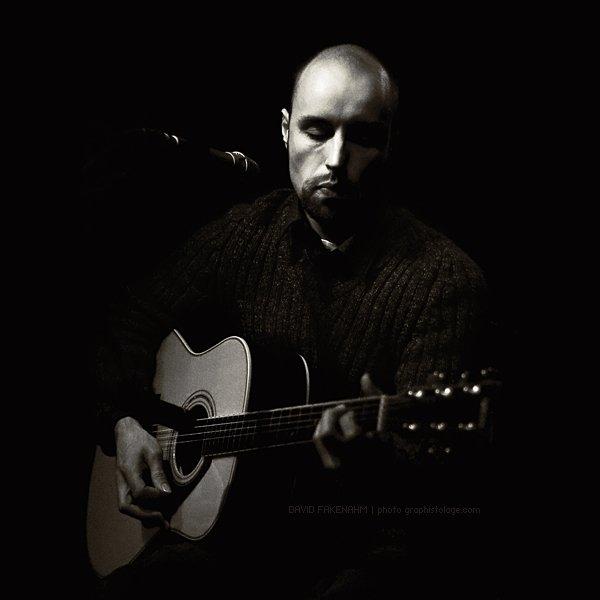 En admettant qu'il existe ou qu'il ait jamais existé une scène alt-country en France,
David Fakenahm
en serait indiscutablement le fer de lance. Comme ses meilleurs représentants d'outre-atlantique, il en cultive l'éclectisme et l'indispensable ouverture d'esprit. L'alternative country est le genre bâtard par excellence, le théâtre des associations les plus iconoclastes, ce qui sied bien à
Fakenahm
: de Sonic Youth à Gene Clark, en passant par Mark Kozelek et Teenage Fanclub, son panthéon musical n'est pas monolithique. Et puis n'a-t-il pas débuté dans un groupe metal (Wicked Sandbox), bifurqué dans une formation power-pop (In Limbo) avant de virer songwriter multicasquettes? En somme, le parcours d'un troubadour en puissance.
Back From Wherever
était un album pop tout en guitares triomphantes. Pour son nouvel opus baptisé
Here and Now
,
David Fakenahm
a voulu d'un
"album terrien, qui sent la paille, le bois et la boue"
. De fait, ces 12 morceaux sont des chansons folk dans l'âme mais
Fakenahm
ne s'est pas contenté de les habiller d'une guitare acoustique.
Bien qu'autoproduit,
Here and Now
est un album superbement réalisé, en face duquel des productions aux moyens biens supérieurs font pâle figure. Terrien peut-être mais alors le regard résolument porté vers le ciel et les étoiles. Car chaque titre réserve son lot de surprises, d'arrangements savants et de subtiles fioritures.
Ce paysage sonore fait de guitares, douces ou ténébreuses, de choeurs fantomatiques, d'orgues, de violons et de percussions délicates permet d'unifier et de magnifier ce qui est reste après tout l'essentiel : les compositions, toutes ici excellentes.
Citons au hasard l'entêtant
The Man Who Told Stories
et sa partie de clapements de main qui lui donne un petit côté flamenco. Ou bien
Ten Minutes Ago
qui ouvre le disque sur un air de valse.
Can You See Love...?
- que les fans connaissent dans une version éloignée - bénéficie d'un relooking extrême : inondée de choeurs, la rengaine se transforme en une sorte de gospel froid à vous foutre des frissons. On frémit aussi plus loin à l'écoute du délicat tambourin qui referme
No Talk No Love
, du superbe solo de violon qui surplombe
Forbid
, ou des élégants bidouillages de
Patchouli
.
Autre point culminant de
Here and Now
,
21st Century Bitch
évoque étrangement Tarnation - peut-être est-ce quelque chose dans la voix caverneuse, presque inhospitalière, de Fakenakm qui renvoie au chant mystérieux de Paula Frazer?
On soulignera enfin l'ironie à ne pas avoir titré la chanson la plus belle ici selon moi :
Untitled #1
n'a peut-être pas de nom mais elle a une âme - comme tout cet album - et c'est ce qu'il y a de plus précieux.
[
MySpace
]
[
Site
]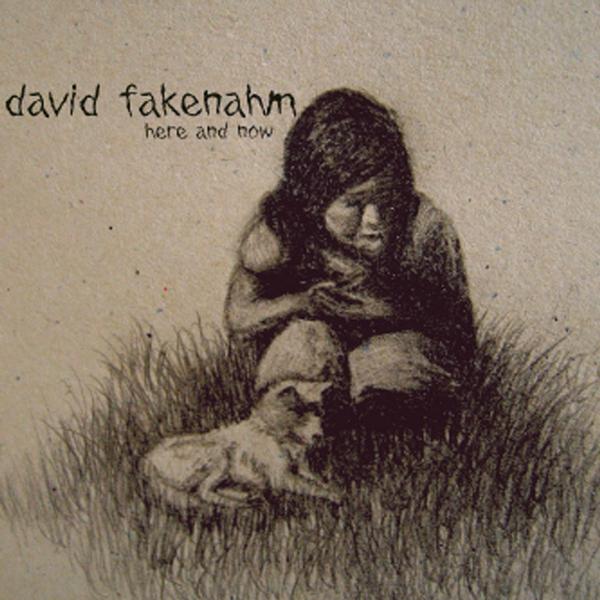 Acheter
Here And Now
(2009, autoproduit)
-----
[plus de
Cosmic French Music
(CFM) sur TASCTY en cliquant
ici
]