Auteur dans les années 70 de l'hymne outlaw-country
Up Against the Wall, Redneck Mother
(que Jerry Jeff Walker popularisa sur
Viva Terlingua
),
Ray Wylie Hubbard
ressurgissait 20 ans plus tard après un long passage à vide. Depuis assez prolifique, le Texan d'adoption sort un album au titre étrange,
A. Enlightenment B. Endarkenment (Hint: There Is No C)
. Etant moi-même néophyte face à son oeuvre, je ne me permettrai pas de juger s'il s'agit d'un bon ou d'un mauvais
Hubbard
mais sur ma modeste échelle de valeurs disons simplement que ce disque se situe très très haut.
Mélange de country gothique et de blues poisseux,
A. Enlightenment B. Endarkenment (Hint: There Is No C)
brasse images fortes et tournures poétiques avec brio. Le morceau-titre fait allusion au Corbeau, le poème d'Edgar Allan Poe, et plus loin, sur
Down Home Country Blues
,
Hubbard
tient à mettre Muddy Waters et William Blake sur un pied d'égalité. Aux citations littéraires s'ajoutent les références religieuses comme sur
The Four Horsemen of the Apocalypse
ou le terrifiant
Every Day Is The Day Of The Dead
. Sur le même thème,
Whoop and Hollar
est un gospel halluciné, martial et exaltant.
Plus terre à terre,
Wasp's Nest
est un blues moite et traînant autour d'un nid de guêpes et
Pots and Pans
n'est visiblement que le prétexte à une joyeuse cacophonie (ponctuée par un orgasme féminin).
Hubbard
orchestre le tout du haut d'une production à la fois brute et soignée et épaulé d'une équipe de musiciens comptant notamment le guitariste Gurf Morlix. A suivre dans les prochains mois,
The Last Rites Of Ransom Pride
, un western violent et décadent qu'il a co-écrit, avec au générique Kris Kristofferson et Dwight Yoakam, et qui devrait en dire plus sur les obsessions et l'univers intriguant de
Ray Wylie Hubbard
.
[
Site
]
[
MySpace
]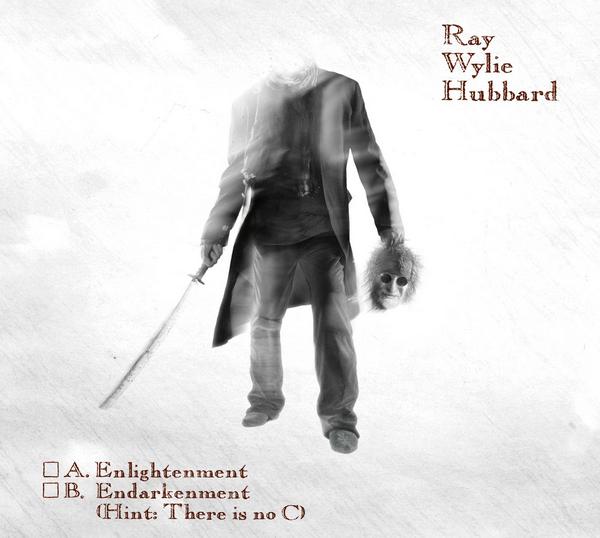 Acheter
A. Enlightenment B. Endarkenment (Hint: There Is No C)
(2010, Bordello) [
eMusic
]