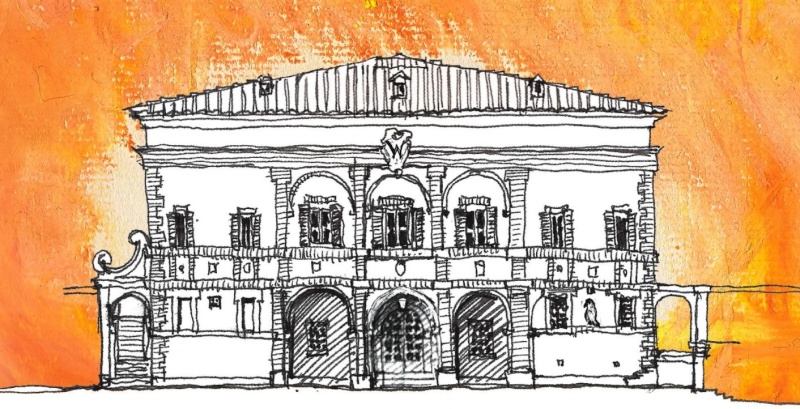 Considéré dès ses débuts comme l'un des string-bands les plus doués de sa génération,
King Wilkie
avait déjà commencé à marquer sa différence avec
Low Country Suite
, un deuxième album qui faisait bien des infidélités au bluegrass. Alors que l'on se disait que
Reid Burgess
, seul respacé du groupe originel, ne pouvait guère plus nous surprendre, le voilà débarquant avec un concept-album riche et ambitieux,
King Wilkie Presents: The Wilkie Family Singers
.
La
"fictive et dysfonctionnelle"
famille Wilkie se compose du patriarche
Jude Russell Wilkie Sr.
, de son épouse
Florence
, de leurs 6 enfants
Beaufort
,
Commodore
,
Peggy
,
Walt
,
J.R.
et
Rosemary
, de
Togo
le chat, de
Symbaline
le perroquet, et de quelques
cousins
et
amis
. Chacun a son caractère propre (tout est détaillé
là
) et tient un instrument. Leurs chansons - qui font partie du programme thérapeutique mis au point par le
Dr Art
, le psy de la famille - s'attachent à chroniquer leurs pensées et anecdotes plus qu'à tisser une histoire linéaire sur la longueur du disque.
Robyn Hitchcock, Peter Rowan, David Bromberg, John McEuen (Nitty Gritty Dirt Band), Samantha Parton (Be Good Tanyas), Abigail Washburn... tous viennent prêter main forte pour donner vie à cette curieuse communauté et se plier aux désirs du grand expérimentateur en chef
Reid Burgess
et du co-producteur/auteur
Steve Lewis
. Pop, country, folk ou blues, la famille Wilkie a les idées larges et l'on plonge avec délectation dans ce maëlstrom d'influences et d'inventions.
Goodbye Rose
et
Dr. Art
, par exemple, sont de purs hommages aux Beatles (leur
Sergent's Pepper Lonely Heart Club Band
étant clairement la matrice du projet de la Wilkie Family) bâtis sur des pianos sautillants et des cuivres chaloupés. Autres pépites,
Videotape
et
Symbaline
sont des étapes vaporeuses et délicates, comme suspendues par la beauté d'harmonies vocales incroyablement légères.

Sweet Dream
distille son charme pop fifties avec la même aisance, tandis que Peter Rowan himself prend le micro sur le plaintif et magnifique
Railroad Town
. Puis, quand sur
Orange Creme Houses
s'unissent le chant résigné de
Burgess
, un piano mélancolique et un sublime crescendo de cuivres, on atteint certainement le sommet du disque.
King Wilkie
-
Hey Old Man (MP3)
Encadrés par le dyptique espiègle
Moon and Sun
/
Sun and Moon
, ces chansons dessinent un portrait de famille généreux et imaginatif, et accessoirement un chef d'oeuvre pop/americana inattendu.
[
Site
]
[
MySpace
]
Acheter
King Wilkie Presents: The Wilkie Family Singers
(2009,
Casa Nueva
)
[dessins de Lila Freeman]